Divorce Advisor
Best Selling Options In A Divorce
You may be at a crossroads and unsure of where to turn. Should you sell your home? Should you keep it? This book can help you navigate this difficult decision.
Download Free Divorce Real Estate Guide
In the middle of a divorce and have questions about the future of your house? What are your best options? This book guide shows you the ins and outs of selling your home in a divorce. Splitting up the house can be a tough thing to do, but with this guide, you can rest easy, knowing you're in good hands. It offers selling options, tips about properly valuing your home, and advice for dealing with court orders and uncooperative spouses - all while considering the emotional factors involved in any divorce.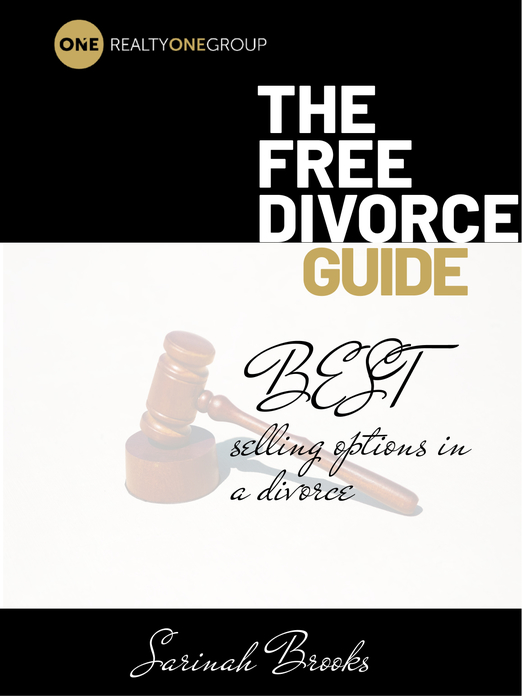 BEST SELLING OPTIONS IN A DIVORCE
Sarinah Brooks
WORK WITH SARINAH
Why Work With Sarinah?
We are here for you. We take the responsibility of selling your home very seriously. Understanding the challenges and timing that surround this decision, we have the strategies, resources and tools to guide you through the process seamlessly. We represent your home with the highest standards in accountability, aesthetics and attention to detail.
We Let You Do The Talking

Exceptional realtor. Helped us navigate bldg a house from 1200 miles away during covid. Would ck on concerns during the build when we couldn't be there. We closed virtually with her being our eyes. She checked things we never would have thought of. Very caring and nice. She gets a 10+
Sarinah was our shining light in our home buying process. She was able to find us a great range of options, too, both in location and price. Sarinah also was able to really zero in on all the things we were looking for in our first home, both big and minute. She worked tirelessly, and was always available to take our questions, and worked around our schedule to meet us to see locations and talk numbers when we were free. Lastly, she was incredibly helpful in interfacing with both sellers and their realtors, and did everything she could to get us in with the sellers. I would absolutely choose Sarinah again and again for any and all home buying needs.
Sarinah went above and beyond to get us our house. She was very courteous, looking for what we wanted and more. For example, who knew there were homes here in Mesa with basements?! Through all the hiccups in our homeboy game, she did everything to fight for us and to get the right house. We found something we loved more than any other house we had seen.
Sarinah Brooks is both professional and knowledgeable. She uses both her extensive experience and excellent communication skills to ensure everything goes as smoothly as possible. She has helped us buy and sell numerous times and there really isn't anyone else out there that has her level of commitment to clients. I always recommend Sarinah to all my family and friends!
Ready To Talk About Real Estate?
Sarinah and the Brooks team will help you achieve or exceed your real estate goals. With their extraordinary quality of service in buying and selling real estate, you will experience professionalism, integrity, honesty & truth, which are all the cornerstones of their business..